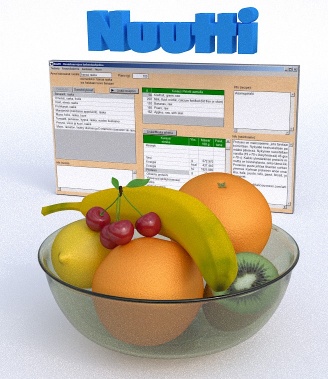 Nuutti works in Windows 2000, NT, XP, Vista , Windows 7, 8 and 10.
Nuutti works also in tablet computers.
Nuutti - nutrient calculation software
Information over 12,000 foods
Nuutti is the leading food and nutrient calculation software.
Free Nuutti -basic version includes:
Nutrient information on over to 12,000 foods
Each food has about 100 datapoints on nutrients: proteins, carbohydrates, vitamins, etc., etc.
Explanations and web links on nutrient data.
Complete calculations for different foods, recipes ja combos.
Thorough and substantial calculation and search tools: program searches for the best compination to fill daily requirement for nutrients going through thousands of combination to find the most efficient set
A full set of "best for" and "highest in" -listings
Ideal if you want to know about calories, carbohydrates, etc., and to find the healthiest diet.
Easy to to use help-files ja tutorial videos are includes
Free to use - just download and use. No spyware or adware!
etc. etc.
Easy to use and user-friendly interface!
Nuutti Pro version of the software (20 eur) includes the all the features above and the following additional goodies:
Versatile printouts and reports
Multilingual: user can modify the language of the program and adjust program layout
The program automatically searches for the latest updates
Suitable for schools and colleges
More extensive functions for calory, consumption and exercise and weight control.
Database toolchest to import & export data and new features
Change most data - open structure and robust programming interface
Free updates for 6 months
NO user fees or monthly charges!